HOW TO DETERMINE YOUR HAT SIZE
Use a tape measure (or a length of string that you will have to hold up to a tape measure) to determine the length. Place the string or tape around your head about 1/8″ above your ear, across the mid-forehead, completely circling your head. Hold the tape firmly, but not too tightly. Basically you need to measure your head exactly where the hat will sit. If your measurement falls between sizes, choose the next largest size.
Learn more:https: //www.tiendahat.com/pages/style-size-advice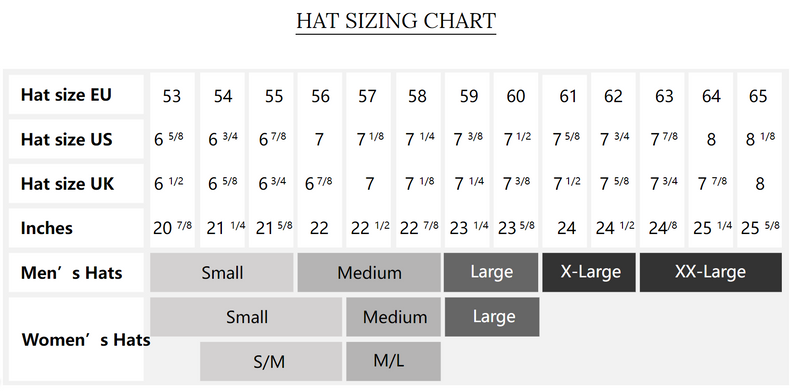 The Peaky Wythall Cap (NEW!)
Size Chart


Top your outfit off with the Peaky Wythall Cap for a smart, stylish and confident look. This round, flat shape and brim cap is manufactured in a classic flat cap style, made in plaid, tartan cloth and reminiscent of years gone by, and with all the history it carries with it. The result is a feeling of exclusivity and a look towards the future in hat fashion.
Special Features:
• Stylish – classic, elegant peaky style with a button stud on top
• Unisex – available in a wide variety of sizes, suitable for women and men
• Quality – made from high-quality wool and polyester
We believe that you'll feel comfortable and confident wearing your own Peaky Wythall Cap, and that will boost your confidence and give you a feeling of fearlessness. Your Peaky cap isn't just another cap, it's a fashion statement: it says you have it all!

About transport:
Many businesses choose to use plastic bags in order to save costs. This will make the hat produce creases. Our packages are 

packed in cardboard boxes to protect them from distortion