SHIPPING COST
| Shipping Plan Name | Shipping Fee | Calculation Rules |
| --- | --- | --- |
| BUY 2 GET FREE SHIPPING | Free | Quantity ≥ 2 items |
| Expedited Shipping | $12.00 | Price >$0.00 USD |
| Air Shipping | $19.00 | Price >$0.00 USD |
| Tracking Standard Shipping | $9.00 | Price $0.00 - $56.00 USD |
| Free Shipping | Free | Price ≥ $56.00 USD |
Note:
"BUY 2 GET FREE SHIPPING" promotion applies to orders with 2 or more items, shipping fee will be waived at checkout.
For orders below $56.00 USD, customers can choose from Expedited Shipping, Air Shipping, or Tracking Standard Shipping at the respective shipping fee.
Free Shipping will be automatically applied to orders with a subtotal of $56.00 USD or more, after discounts and before taxes.
WE OFFER WORLDWIDE SHIPPING TO MOST COUNTRIES !

There might be some delays due to the force majeure recently. Tiendahat will pay attention to the tracking for our customers, if you have any
questions, please contact us to help.

Normally it will take 0.5-2 business days to process your order ( if your order needs to be customized, it might takes longer time to process), regardless
of the shipping option selected at checkout. We ship Monday through Saturday. Please allow up to 2 business days for orders to process (for example, if
you order on Monday, your order should ship out on Monday or Tuesday). You will receive a confirmation e-mail with the tracking link once your order
shipped out. Express shipping options and any other third-party fees are non-refundable.

Normally, we send out your order out by DHL. If you want other shipping methods, please tell us before placing your order.

Most orders will be received in 5-14 business days, such USA, Europe, Canada. On very rare occasions, international shipping to some countries may take
10-15 days or even longer for some slow-to-ship countries such as Brazil, Mexico, and Romania. We are not responsible for any delays caused by the
destination country's customs clearance processes.

Territories of the United States: For those who reside in a territory of the United States that we ship to, your please allow anywhere between 3-5 business days for your order.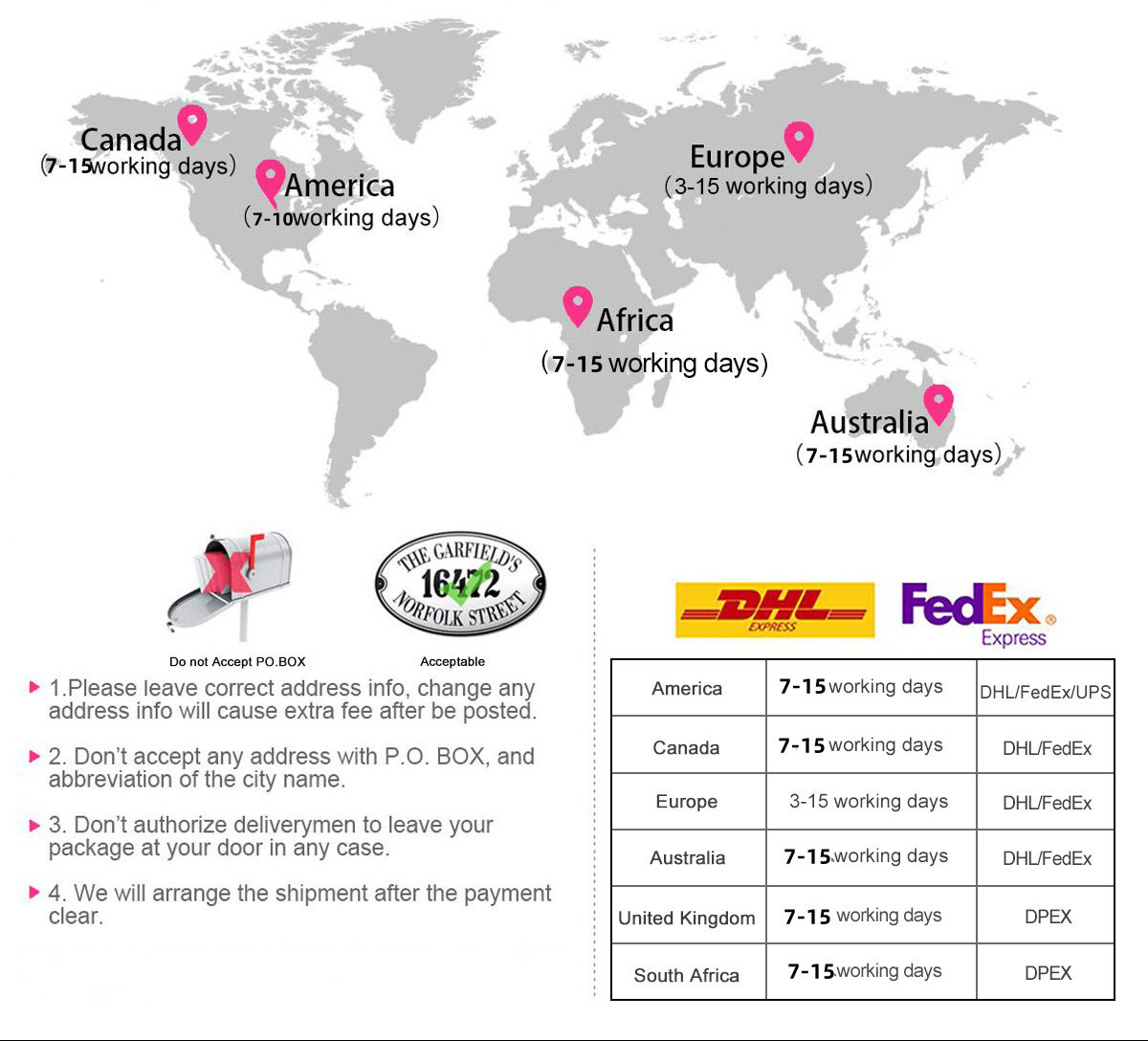 It is the intention of Tiendahat to do business globally and in full compliance with U.S. domestic laws and regulations as well as international laws and regulations such as the United States Foreign Corrupt Practices Act (FCPA) and UK Bribery Act. Tiendahat recognizes that local environmental conditions, as well as laws and regulations unique to certain countries, are conducive to higher risks that need to be properly assessed, monitored and managed. Key risks of new business deals internationally need to be identified and understood to ensure that excessive risk is not introduced into the company that exceeds our risk appetite and/or cannot be mitigated. Tiendahat does not conduct business in the countries listed below:
• Afghanistan
• Cuba
• Iran
• Iraq
• North Korea
• Somalia
• South Sudan
• Sudan
• Syria
• Yemen
• The Crimea region of Ukraine